You hear it all the time – "pregnancy is natural," "childbirth is natural." The not always unspoken subtext is 'what's wrong with you – this should be easy,' or 'if you'd done everything right, you'd be fine,' or 'what's your problem?!', or even, 'shut the hell up, you're scaring the newbies.'
In the film SISTER, by Brenda Davis, about death in childbirth, a Cambodian midwife says
Pregnancy is like crossing a river. When you cross a river there could be wind or rain. The river is unpredictable. We don't know it we will be able to cross it or not. You are not able to foresee the obstacles. Giving birth is the same.
Why do Americans think we've got it all under control?
Of course childbirth is natural, but sometimes nature is not so nice.
I was with my mother when the oncologist told her she had maybe six months. There was nothing she or we, or anyone could do, and she should go home and settle her affairs. He clearly did not know my mother. We drove straight to the natural foods store and bought a juicer, a case of produce – kale, cucumbers, apples, pears, oranges, carrots, ginger, three or four books on how to cure cancer with a natural diet, and loose teas that my son said looked like someone scooped up the forest floor.
In an instant, my Iowan, casserole making, cookie-baking, Jello salad queen/mother gave up meat, dairy, alcohol, refined white flour, sugar, and possibly – many people thought – her sanity.
We juiced for the three weeks I was home. We glowed. We both dropped weight, and looked (and felt) great. She was the picture of health. She had cancer by the throat.
At church a few weeks later, her good friend came up to offer support. As the friend hobbled towards us, she hacked up half a lung. She put her hand on my mother's shoulder, turned away, hacked again, then back, and whispered, "I am so sorry to hear the news." In our close-knit Lutheran community, word and prayer travelled fast. My mother looked bewildered but per usual said "thank you," and inquired about her friend and the friend's husband. He was home sick. After a litany of complaints (diabetes, arthritis, bad back, hips, a cough she could not shake), the friend hugged my mother, hacked some more and hobbled off.
My mother turned to me and said, "Don't get me wrong. I love her, but I'm not the one who's dying." It was true. My mother lived another full and vibrant five years. She swore by her new dietary regime, she looked and felt good for most of the time, and she successfully integrated Western medicine (several rounds of chemo) with alternative healing modalities. My mother lived every day right up until the one she died.
When you hear the word cancer – you assume death is part of the equation – you prepare for it, you educate yourself, and you fight for your health. When you hear the word pregnancy; death is the furthest thing from your mind.
I am the last person to suggest diet and exercise don't matter. I witnessed first-hand the power of healthy eating, alternative medicine, and a positive attitude. I am a believer; good nutrition and self-care saves lives – with cancer, pregnancy, and all areas of health. I am the first person to tell a woman who wants to have a baby that being in good shape increases her odds of a healthy pregnancy. I'm the last one to say, if a woman has had a traumatic pregnancy experience, lost her baby, or lost her life; that something she did caused it. That is reprehensible and whether it is said, or implied, it has to stop.
There are factors we can control to reduce maternal death and near-miss in the US – reduce unnecessary caesarians, unnecessary inductions, screen and support women for postpartum depression, get good prenatal care, treat your hypertension, diabetes, excess weight, reduce stress, give your body time to recover between pregnancies, avoid pregnancy when you are very young or of "advanced maternal age", eat well, and of course don't drink alcohol or do drugs. You can find clinical evidence to back just about any theory you subscribe to, but sometimes the demands of the heart trump clinical evidence. I am no one to judge. I am not saying if you do or don't do these things that you messed up. I am saying if you do decide to take on pregnancy – know your personal risk factors and what you can do to mitigate them.
I'm saying sometimes, despite it all, nature trumps us.
I know of too many women who died in childbirth and played by the rules to trot out the 'pregnancy is natural' – 'childbirth is natural' mantra. When you imply that there is something she did (or didn't do) to cause her death or near-death experience in childbirth – you are adding insult to injury. If you look at our banner on our website you see the faces of women of just a few of the women who died in the US due to complications of pregnancy. We lose two to three a day; nearly one thousand a year. It pretty quickly shatters the myth that the 'only women who die in pregnancy in the US' brought it on themselves.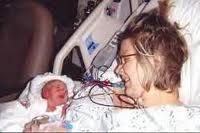 This is Shelly Warner Bridgewater. This is the only photo of her with her daughter before Shelly died January 16, 2005.
Instead of judging women for their choices (and realities), we need to support all pregnant women, and their families, with education, practical help, and listening. The best thing you can do for a woman (or family member) impacted by pregnancy-related death and near-death in the US is just listen – let them share their story. Let them talk. Too often near-death survivors are told to keep the bad news to themselves, as if they somehow jinx a healthy pregnancy by sharing some bad juju. The worst thing you can do is judge her.
I truly believe my mother bought herself five more years of relatively good health due to healthy eating and a positive attitude. She wasn't gone in six months, but she still died. We all do.
Of course pregnancy is natural, of course childbirth is natural, but then again, so is death.
Support a Survivor
Join the conversation
If you are a survivor of a woman who died as the result of a pregnancy complication, or are a woman who survived a near-death experience in pregnancy – join us at our very first Survivors Forum, April 30, 2014, in San J